Payroll Updates
Payroll customers are automatically notified of payroll updates by e-mail or fax. Once an update is released, simply download it using the Check for Updates feature and use the Install Updates feature to install it.
Training
We can train you and your staff over the Internet in a real-time, interactive session. For more information on web-based training options contact sales.
How to Reach Support
Our hours of operations are Monday to Friday, 8AM to 4:30PM, Pacific Standard Time.
1.888.663.4545
1.604.990.1779
Fax: 1.604.990.1789
E-mail: support@esilaw.com
Need Payroll Cheques?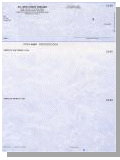 Order cheques ready-to-use with ESI Payroll directly from ESI. Cheques include security features such as microprinted warning borders, chemical stain, fluorescent fibers, microprinted signature line, toner grip, and watermarks. Available in a variety of formats and colors with optional custom logos.